One Roof for the Rest of Your Life!
Why Metal?
If you're looking to crown your home with a roof that will last the rest of your life (and probably your children's lives), you have come to the right place. Please check out our Why Metal? page to see why Metal is the right choice for your home.
Metal Roofing Services
From installing only the highest quality metal roofs to seamless siding, venting and insulation, alternative energy, general construction and more, Dan Perkins Construction does it all! See our Products & Services to learn more.
Free Estimate
We'll provide you with an accurate estimate at no cost or obligation to you.
Check out our featured projects!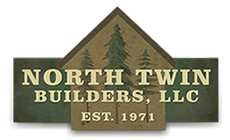 "Here at North Twin Builders we have worked with many businesses that perform great work. When we find companies like this we like to let everyone know who they are and that their work will be done right.
Case in point, Dan Perkins Construction always does an outstanding job on metal roofs and siding. We look forward to any opportunity we are presented to work with them, even suggesting them to a majority of our clients to fill their metal roofing needs. Metal roofing is a great option to have in the climate that we live and work in, and we can always count on Dan Perkins and his crew to come through for us, making sure the client is happy for a lifetime."
John Volkmann – North Twin Builders LLC