Standing Seam Metal Roofing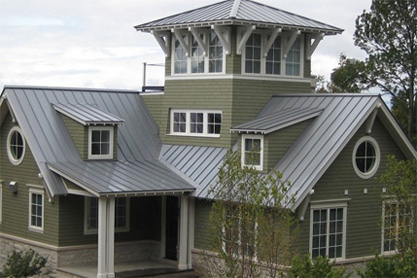 Did you know that every component of a Dan Perkins Standing Seam roof is manufactured by our crew? We make everything from the roof panels to the trim details to the clips and components inside our ridge caps.
As manufacturer/installers we own many more of the responsibilities to our customers than conventional roofing contractors. If there is any problem with the performance of the product, we own that, while a conventional roofer can point to the manufacturer when facing product failure.
In our decades of making and installing Metal Roofing products we have learned what works best for our climate and conditions.  We've learned what works best in high snow areas and what works in the wind driven conditions next to lakes and open fields.  Because of this, we customize our metal roofs to perform in the particular conditions of your property site.