Lifetime Investment
A Dan Perkins Standing Seam steel roof will last well over 100 years on a roof when applied properly and will become an heirloom that will last generations. Do not be fooled by pole barn paneling or other "locking" standing seam systems available at your local lumber yard. They do not even compare. Like historic woodwork, the craftsmanship of standing seam roofing can be experienced when no gaps or cracks are seen in the trim.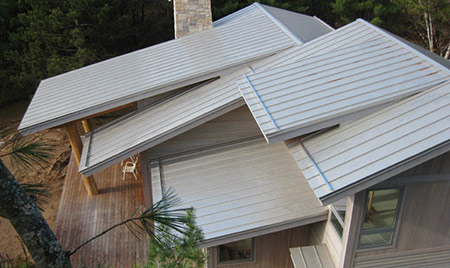 Superior Practice
Through the decades we have learned not to use inferior products or practices. We have always fixed problems and honored our warranties and taken care of our customers long after those warranties have expired. Our crew has stayed with us through the years and they have come to know that if we do have a problem that we will be there fixing that problem. The approach we take to metal roofing is to build for a 100 year lifecycle. To achieve this every detail has to be solidly built. We know that materials such as caulk, plastic vents, and exposed gasketed screws will not last that long. The trick is to use metal fabricating practices that don't rely on these short lived items to ensure that the roof envelope stays dry.
Superior Products
There are products we avoid such as through fastened roofing systems because we know that as the metal experiences seasonal expansion and contraction cycles it will work on the screws and create gasket failure and leaking. We avoid the lighter gauge metal products found in big box lumber yards and we avoid inexpensive paint finishes such as SMP (silicon modified polyester) which is standard for products on the retail market. Our roofing is primarily heavy 24 gauge Kynar (70% PVDF Fluoropolymer) coated Galvalume applied by craftsmen who have made the metal trade their life work. We don't leave raw edges of cut steel exposed. Every transition from panel to detail is a locked seam with the raw edge wrapped around or into the trim.